Televangelist Disgraced Fraud Jim Bakker Still Hustling Under God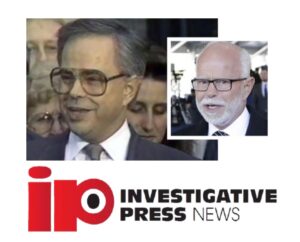 WITH THE ADVENT OF DONALD TRUMP, BOTTOM FEEDER JIM BAKKER BACK IN SNAKE OIL BUSINESS
So I'm simply amazed, and not in a good way, that Jim Bakker is still around.  And by around, I mean still doing his thing, which is acting as a televangelist, being a fraud for money and all of it still under the all-seeing eye of God.  So anyone who wasn't tuned in because they weren't yet around back in the 1980's will need a little refresher.  Jim Bakker was a popular televangelist decades ago.  But his popular platform took a nosedive after he became a convict for fraud.  Which, by the way, only came to light after he paid hush money to a woman who worked for him because of his sexual misconduct.  So if that sounds kind of familiar because of Trump, that's why Bakker is back in business today.
JIM BAKKER'S BRAND OF FRAUD, PROSECUTION AND SEXUAL MISCONDUCT A PERFECT BRAND FOR QANON
But saying it's Trump is all too simple and reductive.  The folks who are the willing flock for the Trumpian brand have huge crossover with Qanon and all the range of conspiracies involving Covid.  And those folks are pretty much the perfect receptacle for a Jim Bakker resurgence.  Sure, that may mean that Trump has some competition, but not enough to make the Orange Napoleon lash out at his equally disgraced, televangelist peer.  So Jim Bakker is at it again with an audience that cares nothing at all for disgrace, hypocrisy or even basic reality.  And he's likely making some good money again for the privilege.
Read More: Tennessee Believes in Vaccinating Cows, But Not People?
BAKKER HITS CONSPIRACY HOME RUN WITH STATEMENT ABOUT WEARING MASKS AND PRAYER
So why are we talking about Bakker again, as it relates to the convergence of sexual misconduct, fraud, God and the largest ever fleece-able flock of suckers?  Well, Bakker has jumped in waist deep all at once by saying that God can't hear the faithful if they are wearing a mask.  And yes, really, he said that.  So while I'm no Bible thumper in my own right, that doesn't make me a heathen or minion like Lucifer like Bakker.  If you care to look in the Bible, find Matthew 6:6, and the section which says, When you pray, go into your room, close the door and pray to your Father, who is unseen. Then your Father, who sees what is done in secret, will reward you.
I'd say I'm disgusted, and I am.  But the latter day minnows are swimming out, feeding on the scraps and churn left in our society's waters by Donald Trump.