Professor Chris Brummer, Unqualified CFTC Nominee Duped Senator Mitch McConnell, Neil Chatterjee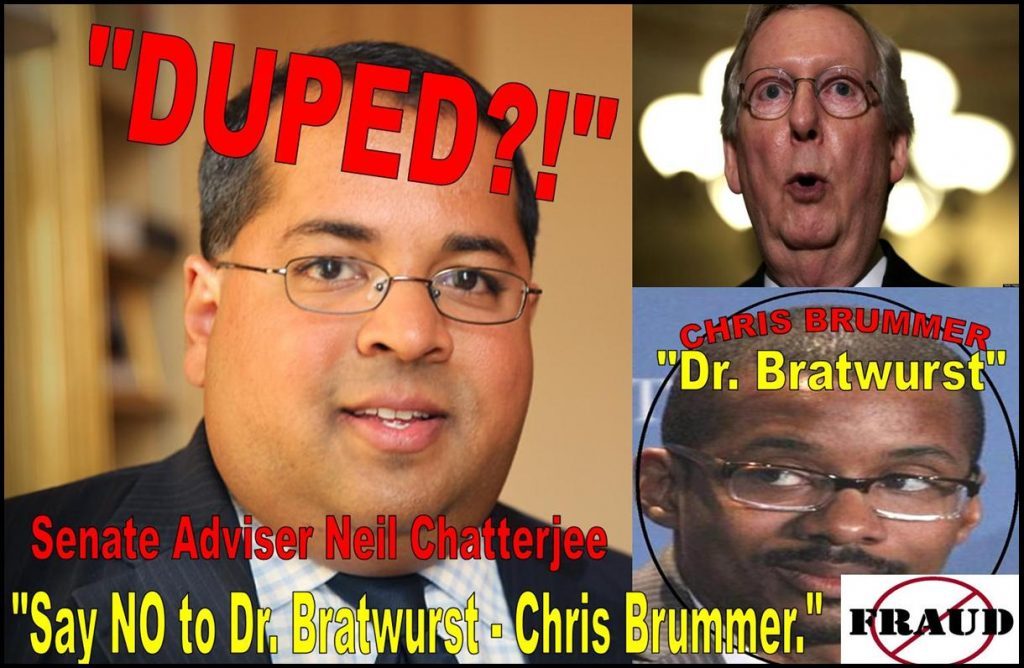 NEIL CHATTERJEE, a well regarded staffer of Senate Majority Leader Mitch McConnel may have been duped by Professor Chris Brummer, a highly unqualified CFTC nominee tainted with a history of fraud, lies and extramarital affairs.
The notorious CFTC nominee, embattled imbecile professor Chris Brummer may have landed himself in serious political hot water for misleading the Senate majority leader Senator Mitch McConnell and a senior McConnell staffer Neil Chatterjee. The latest "pay to play" scandal involving the dubious CFTC nominee Chris Brummer has spread like the Zika virus beyond the familiar Clinton Foundation playbook of deceit and corruption. The Chris Brummer "time bomb" was finally dropped on the laps of Senate Republican leader Mitch McConnell.
The latest revelation of troubling political favoritism and outright fraud may have implicated Chris Brummer and deeply humiliated Senate staffers with the offices of Senator Mitch McConnell (R-KY) and Senator Pat Roberts (R-KS).
CFTC, the Commodity Futures Trading Commission is the nation's top regulator for the commodity markets. CFTC commissioners are supposed to be financial experts with deep knowledge of America's agriculture industry. Unfortunately, the Arkansas-born Chris Brummer's only claim of an agricultural background is chasing wild boars in the Arkansas mountains.
Senate sources have also confirmed that Chris Brummer has such lousy credit history. He is so buried in debts that the man can hardly balance his own checkbook!
On September 28, 2016, the Senate Agriculture Committee chaired by Senator Pat Roberts reported out the nomination of Chris Brummer as a CFTC Commissioner. Senator Pat Roberts' decision came as a shocker to the world. Several Democrat and Republican advisers present at the September 15 Senate Ag Committee confirmation hearing have confirmed that the Republican Senator Mitch McConnell may run a "hotline" seeking full Senate consent on September 29, 2016.
If the "hotline" gets too hot to bear for the Dr. Chris Brummer fraud, McConnell staff has recommended that McConnell drop a sneaky "nuclear bomb" on the Senate floor through UC ("Unanimous Consent") – a verbal confirmation "shortcut" circumventing the requirements of a unanimous Senate approval. So far, Senator Mitch McConnell has put the lousy idea on hold until at least after the presidential election in November.
"When the new boss is in the White House, Chris Brummer will be dumped like trash anyway. Why dirty up Leader McConnell's hands?" said a source.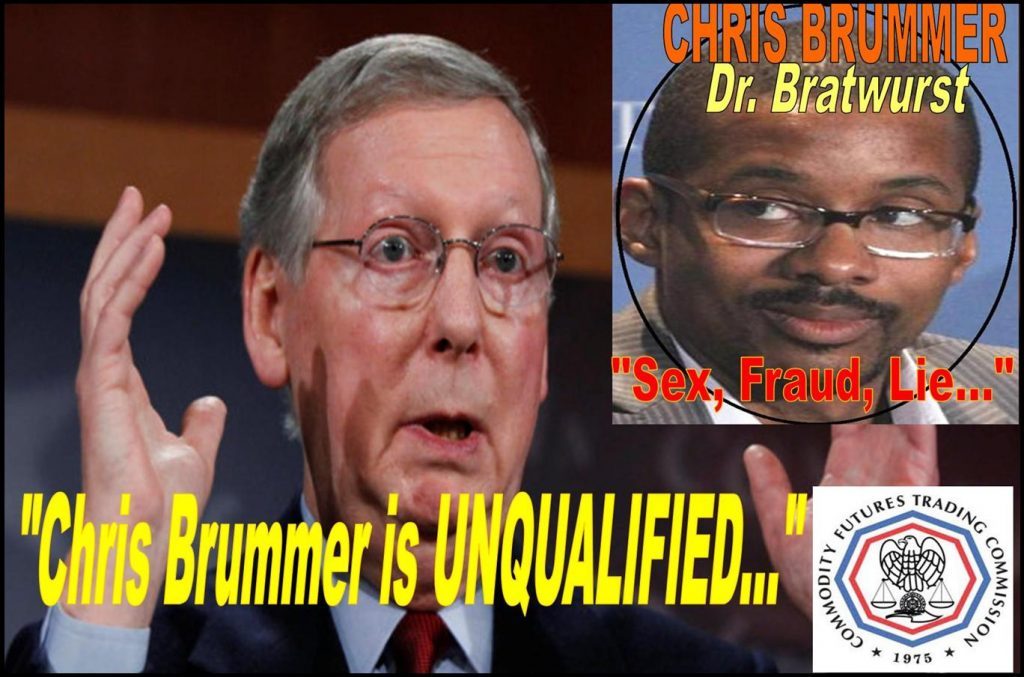 NEIL CHATTERJEE, A WELL-REGARDED SENATOR MCCONNELL STAFFER DUPED BY DR. BRATWURST – CHRIS BRUMMER
"While Senator McConnell's decision to dump Chris Brummer into the "icebox" deserves applause, sources say McConnell senior staffer Neil Chatterjee gets the credit for protecting his boss McConnell against the Chris Brummer fraud."
Sources say Neil Chatterjee, a reputed McConnell adviser and a Kentucky native known as a straight shooter has grave concerns over Chris Brummer's qualifications as a CFTC commissioner.
Neil Chatterjee was blunt, according to sources close to him: "Look, Chris Brummer is unqualified for the CFTC job. Chris Brummer has no ag, has a lousy credit history, no experience, never donated a dollar to any politically party, the man is cheap as hell and he is totally broke."
Meanwhile, Neil Chatterjee's long time family friend, the CFTC Republican nominee Brian Quintenz is stuck in the mud along with Brummer.
THE QUALIFIED BRIAN QUINTENZ VS. DR. BRATWURST CHRIS BRUMMER
CFTC nominee Brian Quintenz is a 20-year veteran of the commodity trading business. Brian Quintenz is a successful entrepreneur. Just recently emerged from a nasty divorce, Brian Quintenz is eager to replenish his bank account and start a new career as a CFTC commissioner, if confirmed by the Senate. By any fair measure, Mr. Quintenz is no Gary Gensler, the former Chairman of the CFTC and a commodity industry legend. But at a minimum, Brian Quintenz, an Ohio native is a well-liked, honest family man with deep commodity industry experience.
On the Democrat side, the shady Professor Chris Brummer pales like a "snow white" dancing with the dwarfs. Chris Brummer is a big mess and a total fraud:
Dr. Chris Brummer – Dr. Bratwurst holds a PhD in "Germanic Studies" – the learning of German folklore dances with naked European women (or men), grilling Bratwurst sausages while drinking beer at Oktoberfest.
The media exposure of a controversial history of sex, lies and fraud allegations against Chris Brummer has enraged the Dr. Bratwurst so much that in 2015, Chris Brummer vowed to shut down the internet and muzzle the free press – until his attempt fizzled in a humiliating New York court defeat.
Neil Chatterjee has not responded to media inquiry. Others are ready to talk "off the record."
"Professor Chris Brummer has some nasty baggage. The notorious Chris Brummer may be broadly known as 'Dr. Bratwurst sausage,' but he has zero experience required for a CFTC commissioner," said an anonymous Senate source.
"Chris Brummer's poor credit history is also troubling. This is someone who barely survives on the the verge of bankruptcy. A homeless loser like Chris Brummer wants to regulate the CFTC financial markets? Hell no! He can hardly stop over-drafting his own bank accounts!"
CHRIS BRUMMER, A CRIMINAL MICHAEL MILKEN FRONT, POISON TO THE CFTC
Sources say the idea of getting Brummer confirmed will be strongly contested by at least half a dozen senators concerned about Senator Roberts and Senator Mitch McConnell selling out to special interest with deep pockets – reflected in Professor Chris Brummer's money man, the convicted stock criminal Michael Milken, exposed by the LA Times. 
Michael Milken is a top donor to the controversial Clinton Foundation, whose financial contribution has bought Brummer's CFTC nomination by the White House – as a favor to Milken.
In the 1980s, Michael Milken was the "king of junk" and a convicted felon sent to 10 years in prison. After Milken was barred for life by the Securities and Exchange Commission, the heat has been on Milken to keep his hands off the financial markets. Sources say the felon Michael Milken has since recruited Chris Brummer as his mouthpiece to manipulate the CFTC, which is outside the SEC's regulatory purview. Chris Brummer has never denied that fact that he's been on Milken's payroll for many years. In 2015, the SEC fined Milken $45 million for violating his life time bar. Between Michael Milken and Chris Brummer, it's a perfect match in a Washington zoo – a "pig" and his "lipstick."
A POLITICAL HORSE TRADE IN A DC "HORSE SHOW"
Just the appearance of associating a CFTC financial regulator with a convicted felon should be enough to alarm anyone. Chris Brummer somehow feels that he is an exception to the rules: Brummer needs the money to stay afloat… Many are outraged:
Selling out to a criminal like Michael Milken may be unsavory for Chris Brummer. Selling out a CFTC position and harming America's farmers is treason!
Michael Milken's dark shadow behind Chris Brummer came to light when Brummer's CFTC nomination was publicly announced.
"A deal was struck in the typical fashion of Washington backroom dealings: Senator McConnell's Neil Chatterjee wants Brian Quintenz to be confirmed; the felon Michael Milken wants the Dr. Bratwurst – Chris Brummer."
Regardless whether Brian Quintenz is unfairly tainted by Brummer's notoriety, America's farmers are sacked by a smelly horse trade…