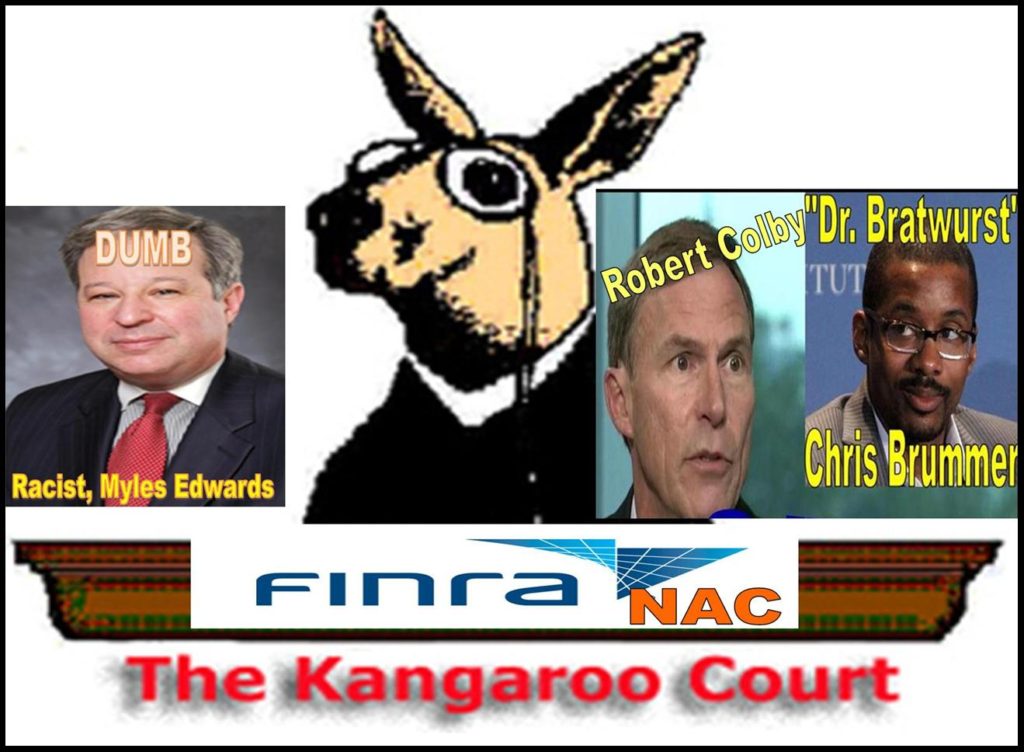 FINRA NAC is the Financial Industry Regulatory Authority ("FINRA")'s NATIONAL ADJUDICATORY COUNCIL.  FINRA NAC is a notorious rubber stamp for the highly profitable, yet "non-profit" FINRA – a $2 billion a year, non-governmental "self-regulator" whose top dogs collect millions a year for robbing the livelihoods of its members.
At its sole discretion, FINRA smear you even when you NOT a FINRA member and have nothing to do with FINRA. In the investment business, FINRA is just as notorious as the Nazi party. Sitting on top of "swastika" is FINRA's colorful Robert Colby.
FINRA, a nail in the coffin for FINRA members
On paper, FINRA is an annoying marketing promoter. FINRA NAC touts itself as America's "self-regulated" entity whose members are investment brokers. In reality, FINRA is a monopoly created during the financial crisis when Wall Street fat cats ruined America. FINRA membership is deeply flawed: unless someone pays hefty fees to join FINRA, he can't do business as an investment broker.
"Once you join FINRA, you have just bought yourself a ticket to hell. FINRA membership is a nail in the coffin."
As a member of FINRA, you lose all of your constitutional rights, including free speech. You are handcuffed for at least two years under FINRA control even after you decide to leave the abusive master. Many complain that FINRA is the 21st century slave master whipping its slave FINRA members. As a FINRA member, your life is ruined.
FINRA's hammer is FINRA NAC, a supposedly "independent body" within FINRA to have "neutral oversight" of contested cases between you and FINRA enforcement. In reality, the FINRA arbitration or FINRA NAC hearing process is bullshit: FINRA NAC is the "red lipstick" on a pig dancing in a kangaroo court. A notorious former FINRA arbitrator Myles Edwards was exposed as a racist.
FINRA NAC, A Rigged Kangaroo Court
Here is why FINRA NAC hearings are rigged: FINRA's enforcement staff (the "prosecutor") is paid by FINRA, overseen by FINRA general counsel Robert Colby. Robert Colby then handpicks whoever he wants as FINRA NAC members to serve as the "jury." Robert Colby also authors FINRA NAC's final ruling decisions against you ("the court ruling"). Got it?
"In FINRA NAC hearings,  the judge, the court, the jury and the prosecutor are all vested in one 'holy man" named Robert Coby, FINRA's notorious, racist, ignorant general counsel."
The obvious setup in a FINRA NAC kangaroo court is to ensure FINRA NAC does not toe a different party line from FINRA's. It works great for FINRA and Robert L.D. Colby: No wonder FINRA supports FINRA NAC. Why wouldn't kangaroos support their own kangaroo courts?
"FINRA NAC rules in favor of FINRA staff against its members 100% of the time! Vladimir Putin's Russia can't do better!"
Congratulations to FINRA, FINRA NAC and Robert Colby for rigging America's securities industry!
FINRA AND FINRA NAC, KANGAROO COURT, CONFLICT OF INTEREST EXPOSED
FINRA NAC has a stench of cow manure arising out of a long list of FINRA self-dealings and conflict of interest:
Rigged FINRA NAC rulings: Historically, FINRA NAC sides with FINRA enforcement staff 100% of the time. Rigged?! (Even the "Big Brother" SEC only wins 50% of its contested cases in federal courts!)
FINRA NAC members work in part time, moonlighting jobs paid by FINRA.(Would you bite the hand that feeds you?)
FINRA NAC decisions are draftedand written by FINRA staff, approved by FINRA general counsel Robert L.D. Colby! (Wonder how FINRA wins 100% of its cases before FINRA NAC? )
FINRA NAC members are handpicked by FINRA's general counsel Robert Colby. Many have no industry experience. (Would a slave kneel before a master?)
FINRA NAC members ("the jury") are handpickedby FINRA general counsel Robert L.d. Colby for a specific case, who also picks FINRA enforcement staff ("the prosecutor") to litigate the same case. Both report directly to Robert Colby. (The judge and the jury are picked by the same person? Say rigged?)
FINRA NAC members are mostly unqualified folks with zero experience in the financial industry (For example, FINRA NAC member Georgetown nutty professor Chris Brummer, known as "Dr. Bratwurst" has a degree in "Germanic Studies!"- grilling Bratwurst sausages and drinking beer.)
"My life was ruined by FINRA and FINRA NAC," said African American broker TALMAN HARRIS. "FINRA made up trumped up charges against me, destroyed my family only because I am black! I have exposed FINRA and FINRA NAC fraud in an appeal to the 2nd Circuit Court of Appeals."