Photo of Canadian Cops Being Chummy With Freedom Fighter Group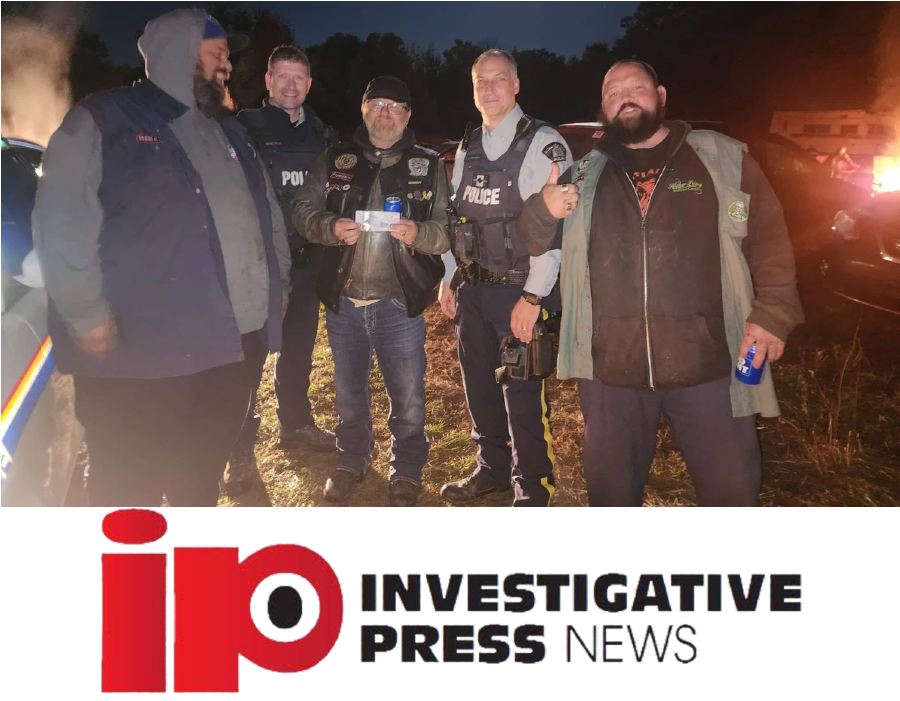 TWO CANADIAN COPS APPEAR IN CHUMMY PHOTO WITH FREEDOM FIGHTERS AT PARTY
Police behavior is always subject to public review.  This frequently involves unfair evaluations, even assumptions, by the general public.  When it comes to police conduct, people usually make assumptions from two perspectives: critical or supportive.  In other words, you either think police are always right and deserve your support.  Or, you believe that police always deserve suspicion, and are likely hiding something nefarious.  But what about when police conduct obviously deserves critical scrutiny, when there are definite questions that need answering?  That certainly seems to be the case with this photo, where you can see two officers being chummy with members of the Freedom Fighters.
Read More: Iranian Protestors Hacked Iranian State TV, Live On The Air
COPS WERE SUPPOSEDLY AT FREEDOM FIGHTER PARTY TO DEESCALATE A SITUATION
The Freedom Fighters are an anti-government group, with ties to the convoy movement.  That alone raises questions as to why any Canadian police would have any association.  Yet the Nova Scotia RCMP has an answer to that.  But not a satisfying one and not one any reasonable person would find to be laudable.  Their explanation is that the two Annapolis District police officers were there to "deescalate" a situation at the freedom fighter party.  The party was supposedly an effort to raise money in support of veteran PTSD.  But the photo doesn't seem to support that explanation.
Related: 
Survey Says: 21 Million Americans Support Violence to Restore Trump
YET BOTH COPS PAID COVER FEE TO ATTEND, AND ONE WORE THIN BLUE LINE PATCH?
Even less supportive of this rationale are two details, one which is eyebrow raising, the other fairly alarming.  The former is that the two officers paid a cover charge to attend the party where they needed to deescalate a situation, supposedly.  If they were there on police business, they would obviously not need to pay admission to keep the peace.  The latter and alarming detail is that one of the officers in the photo was wearing a "thin blue line" patch, on his uniform.  This patch represents the Blue Lives Matter movement, which equates any attack on police as a hate crime.  The patch is also connected to far-right groups, which is salient for this photo.  The RCMP has banned any police from wearing this patch since 2020.
The RCMP's explanation of this photo only seems to raise more questions, the least of which is why the RCMP is offering any explanation at all, instead of reassuring the public an investigation and an assurance it won't happen again.